Wisconsin Safety Council recognizes individuals who contribute to the overall safety of the state. The Partnership Award is given to individuals who go above and beyond to support Wisconsin Safety Council's mission of making the state the safest place to live, work and play. This can include volunteering, assisting with training programs and working closely with members to help improve their culture of safety.
2019 Partnership Award Winner – Gabe Gutenberger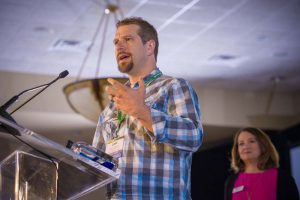 Gabe Gutenberger is a 12-year veteran of the safety profession, with another decade of hands-on construction experience before that. As the Safety & Education Manager for Tweet/Garot Mechanical in De Pere, WI, he oversees the training and education of their 500 employees, visits jobsites, manages the drug testing program, and assists with Workers' Compensation. His experience as an educator also flows into other areas of his life, including teaching OSHA-30 for apprentices at the local union hall, instructing for Fire and EMS services, in which he has been a volunteer for over 20 years, teaching concealed carry firearms classes, and assisting his lovely wife, Lisa, with homeschooling their six children.
2018 Partnership Award Winner – Dave Leix