2020 Conference Event Dates
| | |
| --- | --- |
| April 19, 2020 | Professional Development Courses |
| April 21 – 22, 2020 | Conference & Exposition |
| April 21, 2020 | Reception for all Attendees & Exhibitors |
78th Wisconsin Safety Council Annual Conference
Kalahari Resort and Convention Center
Wisconsin Dells, Wisconsin
---
Exhibitor Information
---
BOOTH REGISTRATION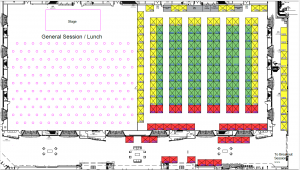 (Click on the map or here to view a larger file)
| | | |
| --- | --- | --- |
| Booth Type | Price |  Status |
| Red Booths | $1,500 | 0 Available |
| Yellow Booths | $1,300 | 5 Available |
| Green Booths | $1,200 | 0 Available |
For the 2020 Conference, WSC/WMC members will receive a 10% discount on their booth price.
---
Expo Hours
| | |
| --- | --- |
| Tuesday, April 21 | 9:00 a.m. – 4:00 p.m. |
| Wednesday, April 22 | 9:00 a.m. – 1:30 p.m. |
For more information on joining WSC, visit our membership page.
Event Sponsors
Keynote Sponsors
Final Program Advertisements
Lodging, Maps & Directions
Kalahari Online Lodging Reservation
Additional Lodging
Driving Directions
Exhibitor Registration & Move-in/Move-out
Arrival – Upon your arrival at the Kalahari Resort, please check-in at the Exhibitor Registration Desk located directly inside the hotel's Conference Center. All exhibitors must be pre-registered, and admittance to the Expo Hall requires a name-badge at all times.
Unloading/Parking – The Kalahari Resort has overhead doors for your convenience in unloading your equipment, and parking is free.
Display Installation Schedule – Installation of displays will be from 1:00 p.m. to 5:30 p.m. on Monday, April 20. All work must be completed by 5:30 p.m. on Monday.
Security – The Expo Hall doors will be locked during closed exhibit hours from Monday through Wednesday. Without exception, no one will be allowed into the Expo Hall after exhibit hours once the doors are locked. If you have a hallway booth: there are security cameras in the hallways, however we are not responsible for your belongings. You may still wish to put away valuables. We can allow you to place valuables within the locked expo hall over night if necessary.
Dismantling of Displays – Exhibitors must not begin to dismantle their displays before 1:00 p.m. on Wednesday, April 22, the official closing of the Exposition. Any exhibitor dismantling prior to 1:00 PM will be in violation of Expo guidelines and subject to review for future shows, including forfeiture of seniority status and booth location preference. All materials must be removed by 6:00 p.m. on Wednesday, April 22. Many activities are scheduled in the Expo Hall to encourage attendee participation such as massages, breakfast, dessert each day and exhibitor's own prize drawings and demos.
Your Exposition Contact
For additional information on participating in our conference, please contact WSC at 608.258.3400 or wsc@wisafetycouncil.org.