Wisconsin Safety Voice is a quarterly publication of the Wisconsin Safety Council. Safety Voice is targeted directly at safety, health and HR professionals and contains in-depth, up-to-date information about safety best practices and regulatory compliance.
In this edition:
Corporate Safety Awards: Meet the Finalists
Spring Cleaning: Safety is Still Important
Focus on Safety: The Danger of Falls
Workplace Fatigue: How to Get Better Sleep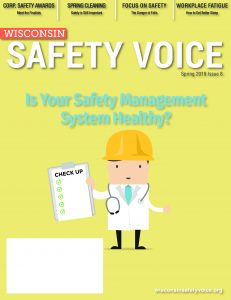 Wisconsin Safety Voice
Issue 8 | Spring 2019
Check out past issues of Wisconsin Safety Voice
Want to advertise? Contact WSC at 608.258.3400 or wsc@wisafetycouncil.org.